NIS America est fier d'annoncer aujourd'hui Disgaea 7: Vows of the Virtueless. Le prochain épisode de la série Disgaea sortira en version physique sur PlayStation 5, PlayStation 4 et Nintendo Switch à l'automne 2023.

À propos du jeu :
Le royaume démoniaque de Hinomoto est en train de changer et l'époque des valeureux guerriers est bientôt révolue. Pris dans toute cette agitation, Fuji, un samurai paresseux, et Pirilika, une fan inconditionnelle du Bushido, se retrouvent contre toute attente à faire équipe. Tous deux s'engagent dans une lutte contre un régime tyrannique, qui les mènera sur la voie de la rédemption et de l'honneur !
Embarquez dans une aventure épique, dans ce Tactical RPG débordant de nouvelles fonctionnalités diaboliquement excitantes telles que la Gigantification, le mode Infernal, la Réincarnation d'objet, la fonction combat automatique améliorée, ainsi que des affrontements en ligne classés. Il vous sera également possible de personnaliser votre propre équipe à l'aide d'un roster de plus de 40 classes de personnages. La franchise Disgaea n'a jamais était aussi grande qu'avec Disgaea 7: Vows of the Virtueless.

Caractéristiques :
Des combats au MAX : Un jeu débordant de nouveaux contenus incluant le mode Infernal, la Réincarnation d'objet et la Gigantification qui permet à vos personnages de devenir titanesques et d'infliger d'énormes dégâts !
Camarades d'armes : Votre potentiel de combat est sans limite grâce aux 40 classes de personnages différentes dont 4 inédites : Maiko, Bandit, Princesse Zombie et Mauvais-œil !
Un monde de Guerriers : Inspiré du Japon féodal, Disgaea 7 tire ses origines à la fois de l'histoire ancienne et moderne. Cet épisode narre ainsi un somptueux conte autour de la rédemption.

Contenu de l'édition physique
- Le jeu Disgaea 7: Vows of the Virtueless sur PlayStation 5, PlayStation 4 ou Nintendo Switch
- Un mini artbook
- La bande-son numérique à télécharger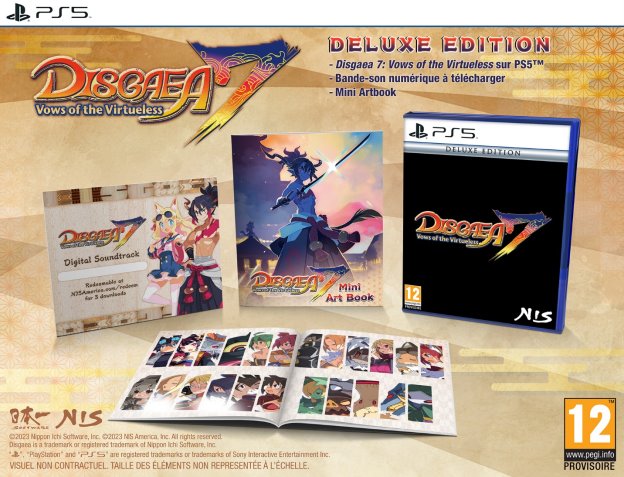 Informations :
Date de sortie : Automne 2023
Plateforme(s) : PlayStation 5, PlayStation 4 et Nintendo Switch
Genre : Tactical RPG
Joueur(s) : 1
Texte : Français
Voix : Anglais/Japonais
PEGI : 12
Editeur : NIS America
Développeur : Nippon Ichi Software
©2023 Nippon Ichi Software, Inc. ©2023 NIS America, Inc. All rights reserved. Disgaea is a trademark or registered trademark of Nippon Ichi Software, Inc.
About NIS America
In 2003, NIS America was established in Southern California to bring exciting, one-of-a-kind Japanese culture to North America.

NIS America's team members devote themselves to the fans. Their respect for their fans is at the heart of everything they do. As an established entertainment publisher in the U.S., NIS America is committed to continuous growth and improvement.

NIS America is a subsidiary of Nippon Ichi Software, Inc., a company famous for its unique line of strategy RPGs with titles such as Disgaea and Labyrinth of Refrain: Coven of Dusk. In keeping with its mission, NIS America also publishes other popular Japanese games, like the highly acclaimed title, Ys IX: Monstrum Nox.
About PLAION
PLAION is a leading independent developer and producer of games and entertainment products, with nine development studios and five publishing units based all over the world. Founded in 1994 as Koch Media, PLAION offers a unique breadth of services and solutions, dynamically growing its business to push ourselves and our partners to the forefront in all the segments we operate in.

PLAION runs a multi-label strategy, with fully owned publishing units, such as Deep Silver, Prime Matter, Milestone, Vertigo Games and Ravenscourt, publishing games for consoles, PC and VR platforms across all physical and digital channels.

Additionally - as a global publishing partner - PLAION has formed long-term multinational publishing collaborations with numerous game publishers including Activision Blizzard, Bethesda, Capcom, Focus Multimedia, Giants Software, Koei Tecmo, Paradox, Sega, SNK, Square Enix, Techland, THQ Nordic, Tripwire, Warner Bros and many others.

With its parent company in Höfen, Austria - and the HQ in Munich, Germany - PLAION owns local publishing companies in Germany, UK, France, Spain, Italy, Sweden, the Netherlands, Austria, Switzerland, Poland, Australia, the United States as well as Japan and Hong Kong.

PLAION owns nine game development studios: Deep Silver Dambuster Studios (Nottingham, UK), Fishlabs (Hamburg, DE), Warhorse Studios (Prague, CZ), Milestone (Milan, IT), Voxler (Paris, FR) , DigixArt (Montpellier, FR), Flying Wild Hog (Warsaw, Kraków, Rzeszów, PL), Free Radical Design (Nottingham, UK) and Vertigo Games (Rotterdam, Amsterdam, NL). Additionally, PLAION collaborates with numerous independent development studios around the world.

Part of PLAION is also PLAION PICTURES, a leading independent film distributor in Europe with a library of more than 1.400 titles. Further business operations include Sola Media, a sales agency and production company for family entertainment, Spotfilm Networx, a multi-channel streaming network, and a sub-label dedicated to Japanese animation.

PLAION also owns the leading video game merchandise company DPI Merchandising (Denver, Roseburg, USA and Munich, DE) and a Quality Assurance Facility in Olomouc, CZ.

PLAION is an Embracer Group company.