NEW YORK, NY, APRIL 23, 2023 – SCUTI, the pioneer in rewarded gCommerce (commerce through gaming) announced today a partnership with Lootably to integrate its marketplace through Lootably's offer wall and provide gamers a novel new way to earn.
This partnership provides SCUTI with access to over 50 million players across the leading game titles and allows these players to make purchases of physical products through SCUTI, and earn up to 5% back in rewards, which they can then exchange for the game currency of their choice.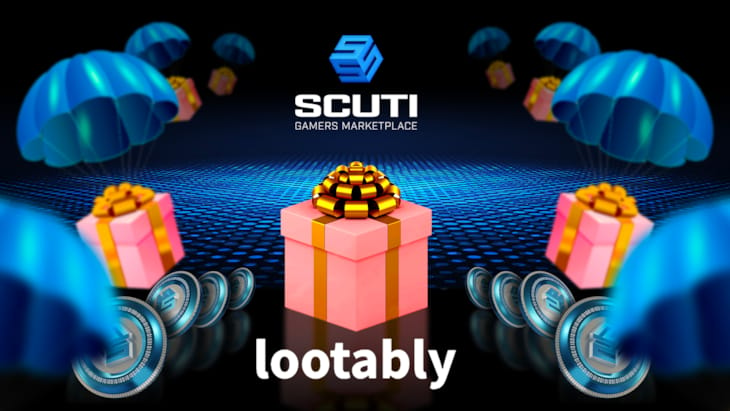 "The Lootably team and I are excited to partner with SCUTI to implement new and innovative ways for our users to shop and earn rewards. We look forward to establishing a strong partnership with SCUTI by integrating their gCommerce marketplace into our Lootably Offerwall and giving them access to our reach of over 50 million users worldwide." said Ethan Geczi, CEO of Lootably.

SCUTI works by incorporating a non-intrusive marketplace directly into the lobby of each game and in offer walls like Lootably, without disrupting gameplay or user experience.
SCUTI is a flexible and effective solution for game makers looking to increase their revenue and enhance their user experience, without sacrificing any of their existing monetization strategies. And the returns are lucrative, increasing the average game bottom line by up to 20%, and generating $8-9 ARPPU every month, while increasing player conversion to make in-app purchases. This hybrid monetization model allows game makers to diversify their revenue streams and reduce dependence on any single source.
Additionally, SCUTI$ can provide an added incentive for players to keep playing and engaging with the game over time. Overall, SCUTI$ add a layer of enjoyment and satisfaction for players as they work towards earning and redeeming their rewards, through platforms like Lootably.
"SCUTI was created to put the player experience first, always." said Nicholas Longano, CEO of SCUTI. "Our platform is designed to allow gamers the ability to fuel their entire gaming life by purchasing curated products and allow them to earn rewards on each purchase, which they can use in any game they wish. It's a win-win for all, but most importantly, for players"
Visionary partners like Lootably are helping SCUTI's mission to enhance the play experience for every player and accelerate the growth for the entire games industry by generating $9 monthly ARPPU in incremental revenues for game makers.
About SCUTI
SCUTI is the marketplace for gamers, and the pioneer in rewarded gCommerce. It allows gamers to earn rewards through their favorite games and using SCUTI's marketplace to make in-game purchases. Players are rewarded for shopping on SCUTI and fuel their game experience with these earned rewards. This incentivizes players to make purchases on the platform and helps to build loyalty among players. Rewards can provide players with the opportunity to unlock new levels or items, making gameplay more fun and engaging. This innovative approach to gaming is quickly gaining popularity among gamers and game makers.
SCUTI was built by video game industry veterans, with backgrounds from Blizzard Entertainment, Epic Games, Zynga, EA, Eidos, MiniClip and Xbox Game Studios. SCUTI is a portfolio company of Fasanara Capital group investment house. Fasanara Capital is an independent, owner-managed, alternative asset management company authorized and regulated by the Financial Conduct Authority. The fund manages approximately $4.0 billion in assets.
# # #
Media contact:
Priscilla Vento
priscilla@30milesnorth.com