Pocket Pair Inc (HQ: Shinagawa, Tokyo; President: Takuro Mizobe) is pleased to announce that their latest game, Never Grave: The Witch and The Curse (Developed internally by a newly formed studio: Frontside 180 Studio), is now available to wishlist on Steam.

"Never Grave" is an entirely new 2D action game that takes inspiration from the Metroidvania x Roguelite genre. Players will battle enemies in randomly generated dungeons, overcome obstacles, and aim to defeat bosses. With the hat-based possession system, players can control enemies and devise their own strategies for battle. In addition, the game allows for more tactical combat through persistent character growth via building and crafting.

Furthermore, "Never Grave" features multiplayer functionality for up to four players, allowing friends to cooperate and delve into the depths of the dungeon together.

Along with the release of the store page, a trailer was also released for the first time! Get a first look at the gorgeous art and world of "Never Grave".

Youtube: https://youtu.be/rE6bcrTWOVo

Steam: http://store.steampowered.com/<wbr />app/2395770/Never_Grave_The_<wbr />Witch_and_The_Curse/

Introduction of "Never Grave: The Witch and The Curse"

A Metroidvania x Roguelite, where you advance using a cursed hat. Use a variety of magic or possess your enemies to reach the lowest levels! Bring back loot, build new facilities in your village, make a living and strengthen yourself for the next battle! Supports up to 4-player multiplayer.

Authentic 2D action

Identify enemy attacks, fight with magic, and sometimes use the terrain to win! Dungeons such as ruins and botanical gardens are auto-generated and change each time you play. Furthermore, there are obstacles and puzzles waiting to block the player's path in the dungeons.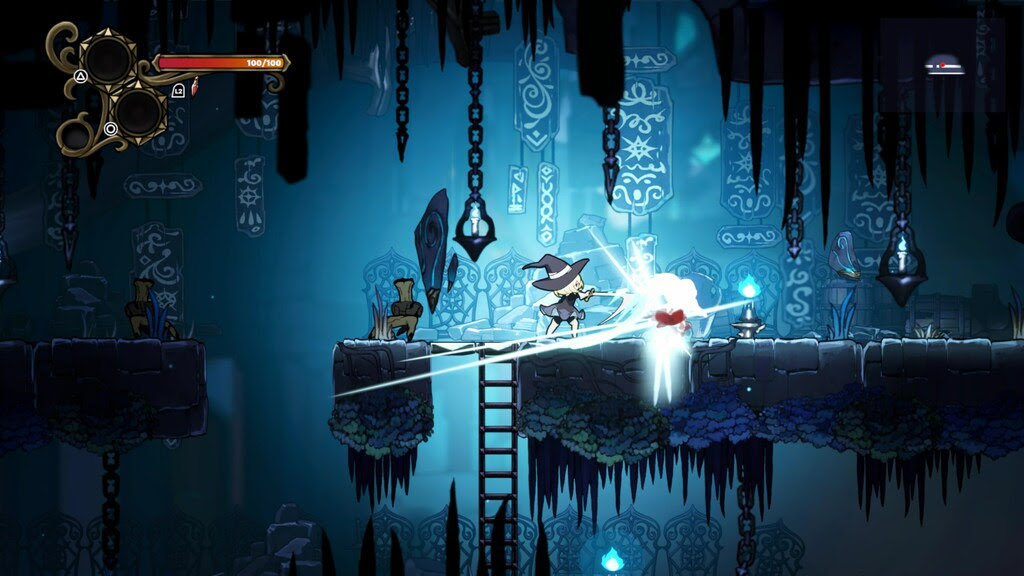 Possession system

Possess enemies using a cursed hat. Use unique abilities from your possessed enemies to open up avenues of action and gain an advantage in battle!
Rebuild a ruined village

Use materials collected in the dungeons to clear the rubble of ruined villages, build new facilities and cultivate crops in the fields. Produce food and potions in the village to prepare for the next battle!
Multiplayer

Multiplayer support for up to four players. Call your friends from other worlds and conquer dungeons together!
Game features
Metroidvania x Roguelite with an emphasis on exploration.
Sophisticated and tactilely designed player character controls.
Possession system where hats can possess enemies and use their unique abilities.
Traditional Japanese hand-drawn limited animation is used for character 2D animation.
Thickly painted backgrounds with depth, as if you are travelling through a world of picture books and cut-out pictures.
Learn actions such as double-jump from artefacts to explore new areas.
Constantly changing play style depending on the synergy of "traits" associated with magic and items.
Intense battles with tough bosses. It will take more than just memorizing boss patterns to defeat them without taking damage...
Rebuild your village. Strengthen yourself through building and production to prepare for the next adventure.
Explore different terrain each time you play through procedurally generated dungeons.
Multiplayer support. Up to four players can delve into the dungeon together!
Game Overview

Title: Never Grave: The Witch and The Curse

Genre: 2D action (Metroidvania x Roguelite).

Players: 1 to 4 players

Release date: TBD

Price: TBD

Languages: English, Japanese, Simplified Chinese, Traditional Chinese, and More

Compatibility: PC(Steam) / Console(TBD)

Steam: http://store.steampowered.com/<wbr />app/2395770/Never_Grave_The_<wbr />Witch_and_The_Curse/

Developer / Publisher: Pocketpair, Inc.

About Company

Corporate Name: Pocketpair, Inc.

CEO: Takuro Mizobe

Office: WeWork TK Ikedayama Building 3F, 5-22-33, Higashigotanda, Shinagawa-ku, Tokyo 141-0022

Founded: April 27th, 2015

Description of Business: Game planning, game development, and game operation

Company Website: https://www.pocketpair.jp/



Contact Info: Pocketpair Inc. Oike info@pocketpair.jp