April 13, 2023 - Eremite Games and Hooded Horse are excited to announce that roguelite city builder Against the Storm's fifth species is here. The Fox-inspired citizens are now playable as part of the "Sentinels of the Forest" update, which introduces new visual assets, buildings, abilities, and more.

As a species that's developed a close connection with the forest, the Foxes specialize in scouting and working with rainwater-fueled technologies. They also bring five new buildings including: dedicated Fox houses, a Tea House (for making tea), a Beanery, a Distillery, and a Tea Doctor (for healing people with tea).

The needs of the Fox people include porridge, a new food item introduced in the update made from simple food items like grain and rainwater. Foxes have low resilience but make up for this with fewer demands and by ignoring resolve penalties from the forest itself. If players assign a Fox firekeeper to the hearth, for example, their city will generate two fewer hostility points when opening glades, which makes exploring the forest less risky.

Introducing a new race is not a simple matter of cosmetics and buildings; the Sentienls update introduces new passive abilities, perks, orders, and events while the existing races have been balanced and tweaked to accommodate the newcomers.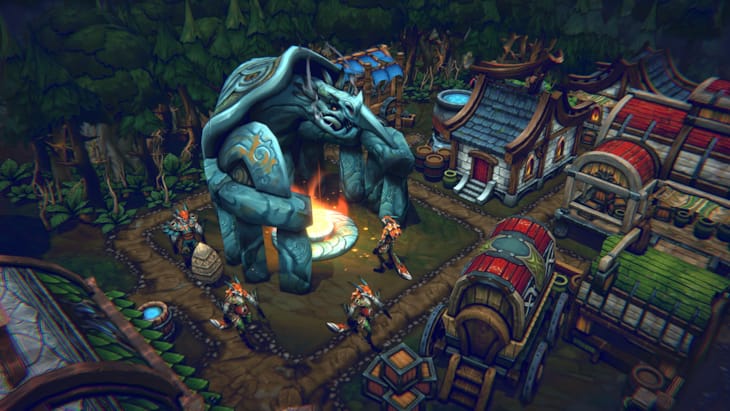 Last but certainly not least, from 9am PT Against the Storm will receive a weekend deal feature on Steam where the popular city builder can be purchased for a historic 25% until April 27. Now is a great time to persuade friends to get involved, as the game will soon become more expensive.

Against the Storm is available in early access on PC via Steam, GOG, and the Epic Games Store for $19.99 / £17.99 / 19.99 EUR until the price increases to $29.99 when the sale ends. It currently holds a 95% "Overwhelmingly Positive" rating on Steam with nearly 9,000 reviews. A press kit is available.

-End-

About Eremite Games™

Eremite Games is a Polish studio formed by six friends who cut their teeth working on AAA and mobile games in Poland's thriving development scene, before striking out to forge strategy games set in uncharted worlds. They are united in their passion for memorable, genre-defining strategy games and RPGs.

You can learn more about them on their website and social channels; Twitter, Facebook, Reddit, and Discord.

About Hooded Horse™
Hooded Horse Inc. is a publisher of strategy, simulation, and role-playing games based in Dallas, Texas, with people and partners worldwide. Starting in 2019 with a single title, Hooded Horse's portfolio has grown to 21 games and counting. Our goal is to empower and support developers in doing what they love. From the distant past of Manor Lords, the haunted woods of Against the Storm, to the depths of space in Terra Invicta, Hooded Horse wants to offer the best in deep, strategic experiences.

You can find out more about us on our Steam publisher page, as well as our social channels; Twitter, Facebook, YouTube, Discord, and website.