May 3, 2023 - Firesquid and Hooded Horse are pleased to announce the final lineup for TactiCon 2023 on Steam. From the hottest new releases to the most anticipated upcoming strategy games, this event will feature games, demos, and discounts from over 100 games, as well as panels, talks, and gameplay streams.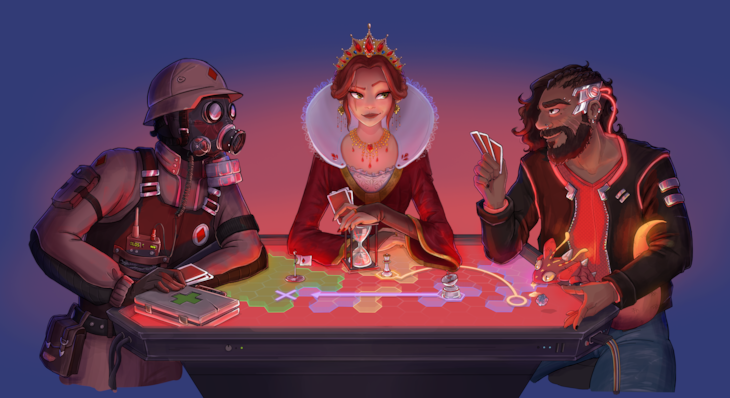 Starting May 11, the five-day event will begin with a special showcase hosted by creators ReneeSky and GamerZakh, airing at 7:30 PM CEST / 1:30 PM ET / 10:30 AM PT. Fans can expect plenty of exciting new announcements and demos, including:
In addition, Abbey Games (Reus, Renowned Explorers) will announce its upcoming project. New gameplay footage is also coming for:
The hosts also have plenty to share regarding their own games. Firesquid has more for the recently revealed anime-themed sRPG Blade Prince Academy, and Hooded Horse will also be sharing news across several of its titles.

Last but not least, an exciting lineup of developer talks and discussions will run across the event. Starting after the TactiCon showcase, there will be several panels, including:
The Art of War: Applying philosophical principles to modern strategy game

Ecology and climate in strategy games

Playing with uncertainty: Embracing randomness in management and strategy games

Music in Strategy Game
A complete list of panels and featured games will be on the official TactiCon website closer to the event. A FAQ is available, along with a press kit. TactiCon 2023 will run from May 11 - May 15 on Steam.
-End-
About Hooded Horse Inc.™
Hooded Horse Inc. is a publisher of deep strategic and tactical games with people and partners worldwide. Starting in 2019 with a single title, Hooded Horse's portfolio has grown to 21 games and counting. Our goal is to empower and support developers in doing what they love so that they can create world-class experiences for their audiences. From the distant past of Manor Lords and the haunted woods of Against the Storm, to the depths of space in Terra Invicta and Falling Frontier.

You can find out more about us on our Steam publisher page, as well as our social channels; Twitter, Facebook, YouTube, Discord, and website.

About Firesquid Games™
Firesquid Games is an indie publisher focused on games that include strategizing and thinking in their broadest sense; from tactics to city-builders or any other game where the brain is the most important muscle. Firesquid works closely with developers to help them make the best game they can, and focuses on developing communities around their strategy games.
Social network: Twitter I Linkedin I Facebook I Discord I Website