VANCOUVER, MARCH 30, 2023 - Red Hook Studios is releasing today the final Early Access update for Darkest Dungeon II. This 'Redemption Road' update revamps and reworks the map traversal systems of the game to add strategic depth and also streamline controls. The stagecoach will now be vulnerable to various hazards, and has armor and wheels tokens which can be depleted via the journey. It's now more important than ever to scout ahead and choose routes carefully.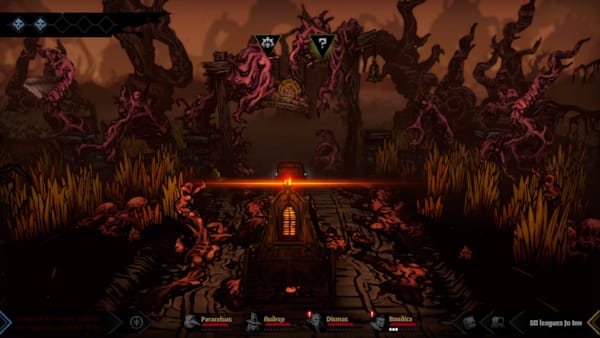 Pets have also arrived at last! There's a total of 10 pets to unlock, each providing their own expedition-defining effects. These cute and twisted companions provide a glimmer of light in an otherwise bleak world. A massive host of other gameplay changes, balance adjustments, and quality-of-life improvements have been made as part of this update. These include such community-requested features as reconfiguring the Valley, redesigning loathing, and making Candle scoring more permissive, especially for new players. View the mammoth patch notes here.
Darkest Dungeon II will exit Early Access on May 8 of this year on Steam and the Epic Games Store. The full game will feature a dozen playable heroes each with their own five-chapter backstory, five regions, five end bosses, and a metagame hub ("The Altar of Hope") with extensive persistent upgrades.
Darkest Dungeon II released in Early Access on the Epic Games Store in October 2021 and has seen a regular cadence of major content and feature updates since. The sequel to the critically acclaimed Darkest Dungeon expands the concept with striking 3D visuals and a new run-based road trip structure that streamlines the experience without sacrificing the complexity of its systems. The Redemption Road update is the last content update before the full 1.0 version releases in May.
About Darkest Dungeon II
Darkest Dungeon II is a rogue-like turn-based road trip of the damned. Form a party, equip your stagecoach, and set off across the decaying landscape on a last gasp quest to avert the apocalypse. The greatest dangers you face, however, may come from within…
Roguelike Runs, Each With Its Own Emerging Story: Each expedition lasts from 30 minutes to several hours. Even an untimely end will arm you with resources that can be spent to improve your next journey.

Unforgettable Heroes: Uncover and experience the interactive tragic origin stories of each hero. Unlock the heroes' full potential via new skills, specializations, trinkets, and more.

The Altar of Hope: Engage with a massive system of upgrades and boons at this metagame hub. Craft your strategies and formulate your assaults onto the five Mountains.

The Affinity System: As travels progress, heroes bond with each other or develop animosity, leading to desperately needed combat synergies or journey-ending dysfunction. Manage their stress and interaction to keep the team together until the bitter end.

Nightmarish Environs: From the burning Sprawl to the diseased Foetor, the long road to the Mountain will challenge your strategies and your endurance. Explore five distinct regions, each with their own unique creatures and challenges.
For more information on Darkest Dungeon II, visit https://www.darkestdungeon.com/darkest-dungeon-2/. Follow the game on Twitter.
For special interview requests or any other requests, get in touch with pr@popagenda.co
For screenshots, key art, gifs and trailer, you can find the presskit here.
Find the game on
Steam
.
Find the game on the Epic Games Store.
About Red Hook Studios
Red Hook Studios is an independent video game developer based in Vancouver, BC founded by industry veterans Chris Bourassa and Tyler Sigman. The critically acclaimed Darkest Dungeon was the company's first product and has sold over 6 million core game copies. The 25-person strong team is now putting the final touches on its sequel, Darkest Dungeon II, currently in Early Access with full release slated for May 8, 2023.
###
PRESS CONTACT
ICO Partners for Red Hook Studios