TORRANCE, Calif. — June 21, 2023 — XSEED Games, the independent-minded publishing brand of Marvelous USA, Inc., in collaboration with Marvelous Inc. and Marvelous Europe, today announced Silent Hope, a new action RPG title, will launch Oct. 3 on the Nintendo Switch™ system and PC via Steam. Preorders will soon be available for the physical Day 1 edition on Nintendo Switch which includes an artbook and soundtrack at the XSEED Games Store and participating retailers for a suggested retail price of $49.99, while the standalone base game will be available digitally for $39.99 on eShop and Steam.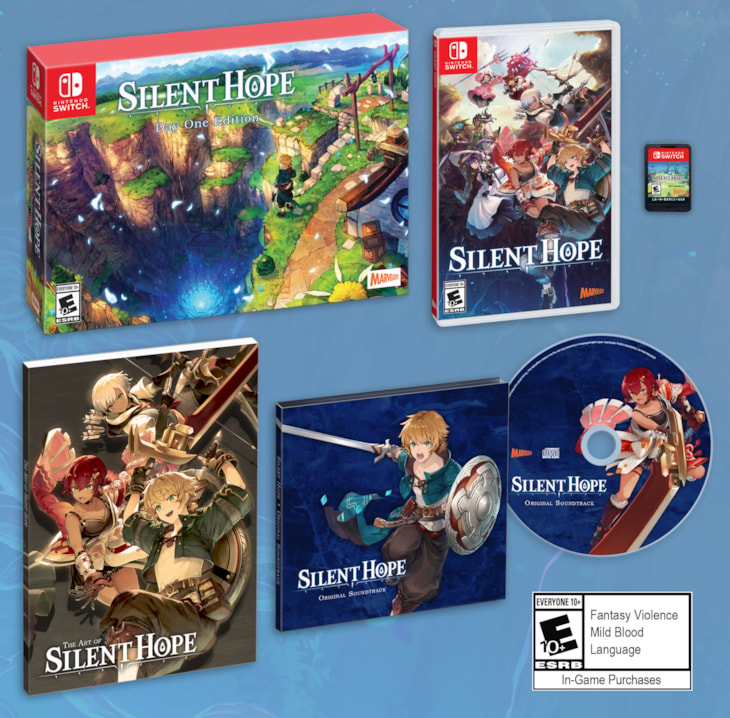 In a world without words, what hope is there for humanity? Silent Hope takes place in a once-peaceful land, silenced by the former King who stole people's speech before escaping into the endless chasm known as The Abyss. Following these events, the Princess mourned her father's actions and wept until she was entombed by her own crystallized tears. Now, years after these events faded from memory, seven heroes find themselves drawn towards the Princess. To break her free from her luminous prison, they must brave the depths of The Abyss to find the long-lost King and reunite the royal family.

Silent Hope harkens back to the glory days of isometric dungeon-crawlers while infusing them with a modern approach. Players will take the role of seven unlikely heroes, each with their own unique weapons, fighting styles, and non-combat jobs. After diving into The Abyss to battle enemies and collect materials, the heroes return to Base Camp to craft, cook, and rest up for their next adventure. Each journey into The Abyss will be a fresh experience, with randomized layouts ensuring every excursion has the element of chance, with even greater dangers lurking the further the heroes dare to venture.

Key Features
Seven Heroes, Seven Unique Fighting Styles – Choose from a motley crew of characters like the well-rounded Wanderer, long-range specialist Archer, or heavy-hitting Warrior to find whose skills suit your playstyle, and embrace new roles and abilities as you gain more experience.
A Home at the Edge of the World – Find new recipes and materials and return to your Base Camp at the edge of The Abyss, where each character has a unique job. From alchemist to blacksmith to cook, each hero brings something different.
Engaging Exploration and Dungeon-Crawling – Experience a new layout each time you enter the enigmatic Abyss, keeping you on your toes every moment. Stay on the lookout for Memory Rifts, where greater rewards and challenges await.
A Vibrant Storybook Aesthetic – With its mournful princess, spellbound kingdom, and everyday heroes, it feels like a fairy tale come to life – right down to the mysteries waiting to be uncovered in the visually stunning underworld.

Silent Hope will be published by XSEED Games for Nintendo Switch in North America and PC via Steam worldwide on Oct. 3, 2023. The game will be released on Nintendo Switch by publisher Marvelous Europe in Europe.

For more information about Silent Hope, please visit its official site, silenthopegame.com. This title has been rated "E10+" for everyone ages 10 and up by the ESRB.

More information about XSEED Games' products can be found at www.xseedgames.com. Fans can also follow XSEED Games on Facebook, Twitter, Instagram, Twitch, get in depth info from their developer blog, and join the discussion on their Discord server at: http://discord.gg/XSEEDGames.

About XSEED Games
XSEED Games is the independent-minded publishing brand of Marvelous USA, Inc., a wholly owned subsidiary of Marvelous Inc., which is a publicly traded company listed in the First Section of the Tokyo Stock Exchange. Formed in 2004 by a small group of industry veterans, XSEED Games is headquartered in Torrance, California and publishes video games on PC and consoles in North America. The publisher's diverse portfolio of over 100 titles includes releases from Marvelous Inc. including STORY OF SEASONS (Bokujo Monogatari), Rune Factory, and DAEMON X MACHINA, titles from third-party partners including AKIBA'S TRIP, Corpse Party, and Granblue Fantasy: Versus, and titles from independent developers including Sakuna: Of Rice and Ruin, Potionomics, and Cuisineer. XSEED Games has grown its reputation among global gamers with its critically acclaimed localizations and commitment to fans, remaining ever dedicated to its "indie spirit, player-first" approach for quality games.

###

Nintendo Switch is a trademark of Nintendo.